Reading FC fans will no longer bury ashes under pitch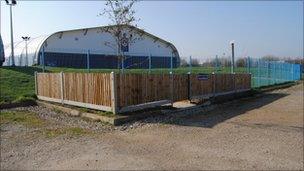 A new garden of remembrance is to open at Reading Football Club so that fans can choose the club grounds as their final resting place.
The club stopped burying fans' ashes under the pitch 18 months ago, as it was unable to meet increased demand.
Club Chaplain Steve Prince said: "It's something people want to do.
"A football club is a community within itself. People have friends and family there."
In opening a new memorial garden, Reading FC is following in the footsteps of other clubs, such as Manchester City.
According to the chaplain, the garden will also be a place for people to sit and reflect.
An opening ceremony will be held on Thursday with the club chaplain and led by The Reverend Vernon Orr, from the Parish of St. Agnes with St Paul and St. Barnabas.
Related Internet Links
The BBC is not responsible for the content of external sites.