Berkshire arson attacks 'cut by half in 10 years'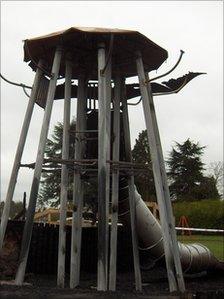 The number of arson attacks across Berkshire has halved in the last 10 years, figures released by the fire service have shown.
The county's firefighters believe the reduction is partly down to a changed approach which focuses more on prevention.
The figures revealed there were 1,980 deliberate fires in 2000 compared with 981 in the past year.
The service said younger children had been targeted for fire education.
Paul Jacques, group manager in charge of prevention of fires, said: "There's been a complete sea change and a different approach to how we look at these fires.
"We used to be a responsive service... now we make it our business to stop things happening in the first place.
"What we've done is record and plot what is going on so you find patterns, things like the times of days where you have prominence and we act on this.
"Sometimes it is as simple as removing the problems, like a walkway having rubbish put down it regularly which gets set alight so we ask the local council to get rid of it."
The impact of arson attacks was seen on Monday when play equipment was destroyed at Sol Joel Park in Earley.
Louise Upcher, whose children play at the park, said: "It is a very happy, vibrant park and all of a suddenly we had this monstrous vandalism.
"It has a huge impact, the children stood in disbelief with mouths open, the younger ones were crying.
"What was once a focal point for children has now been ruined."
Police are investigating the incident.
Related Internet Links
The BBC is not responsible for the content of external sites.