Old Reading station bridge joins Great Central Railway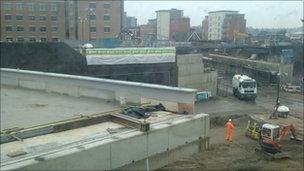 When an old railway bridge at Reading was replaced as part of an £850m station overhaul, it was intended for use as scrap.
But now the two bridge decks have found a home at the Great Central Heritage Railway in Loughborough.
David Wilson from Network Rail said: "It just so happens that they perfectly fit a gap in their railway that they need to fill.
"It's a fortuitous bit of railway matchmaking."
The decks, both 17m (55ft) long, have been transported on flatbed trucks to the Leicestershire site.
A new 1,000-tonne railway bridge replaced the old bridge at Reading on New Year's Day.
Related Internet Links
The BBC is not responsible for the content of external sites.