Maidenhead rabbi's quiz aims to help divorce rate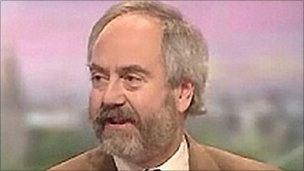 A Berkshire rabbi has devised a wedding quiz he hopes will reduce the odds of divorce among his congregation.
Jonathan Romain, of Maidenhead synagogue, has come up with 20 questions to help couples work out whether they are compatible.
Statistics show one-in-two marriages end in divorce in England and Wales, but Dr Romain aims to reduce odds with those he marries to one-in-16.
He said: "Marriage is the biggest gamble any of us ever take."
Some questions are light-hearted such "what is your partner's favourite food", but most probe what people think their partner's future plans and aspirations are.
"Most couples, I find, in the run-up to their wedding concentrate on the four or five hours of the wedding day, when actually they should be concentrating on the 40 or 50 years ahead," said Dr Romain.
"A bit of preparation might help some couples decide: 'actually we're not quite as suitable as we first thought'".
He said a number of couples performed badly in the quiz during his marriage sessions, which involve couples answering the questions individually.
"There was one couple where the woman wanted two children maximum and the guy wanted six," he said.
"There was a bit of negotiation to be had there."
According to a 2008 population trends report from the Vital Statistics Output Branch, from the Office of National Statistics, one in two marriages end in divorce in England and Wales.
What is his/her favourite food?
Does he/she want to have a pet at some stage?
Does he/she have any allergies?
What was one of the happiest moments of your partner's life before he/she met you?
What has been the saddest moment of his/her life so far?
Does he/she want children and if so, how many and when?
How often does your partner like to visit his/her family?
What special family traditions does your partner have that he/she wishes to continue?
What type of holidays does he/she like best?
Does your partner believe in saving or spending what he/she earns?
Do you find it easy to know what birthday present to get him/her?
Where would he/she like to be living in a few years?
What person has most influence on him/her apart from you?
What is his/her greatest regret?
Does he/she want joint or separate bank accounts or both?
What type of education does he/she want for any children?
What is his/her ideal view of the future?
Are there any habits or characteristics of yours that he/she does not like?
What would you most like to change about him/her?
What are the main values he/she has?
Fifteen answers correct - great future ahead!
Nine to 14 answers correct - you're heading in the right direction, but need to start talking about deeper issues in each other's lives before making any commitments.
Fewer than eight correct - Put all your plans on hold until you really know the person you think you know.
Related Internet Links
The BBC is not responsible for the content of external sites.