Wokingham breastfeeding group axed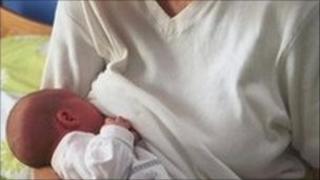 A Berkshire town's only breastfeeding support group is ending after the council refused to fund a trained worker for the mothers.
Wokingham Borough Council said it would not pay for National Childbirth Trust (NCT) worker Karen Hall to work two hours a week.
Ms Hall said Bramble's Sure Start was now only providing a room for mothers to breastfeed in.
The council said it was facing a tough financial situation.
In the first three months of 2011, Ms Hall said she and her student helper saw 132 different mothers.
She said her role was to provide a safe environment and a level of support for mothers who were breastfeeding.
Ms Hall's services had been offered free by the NCT over the past two years while she gained full qualifications.
She said when she asked to be paid after qualifying her request was refused, despite her being told verbally that it would be accepted.
Raising funds
Lynda Duff, head of children's centres at the council, said: "It was a difficult decision to make but unfortunately owing to the tough financial climate, we are not in a position to ask the NCT to run these sessions.
"The centre's family workers are on hand to chat and share information to any mum who pops in. The family workers will also signpost mums to other organisations if they require specialist breastfeeding advice."
She added: "The NCT have been extremely supportive to new mums."
Wokingham Borough Council has said it needs to find £4.5m savings in 2011/12.
The council's seven other children's centres, which are outside the town of Wokingham, use the Breastfeeding Network (BFN) which is staffed by volunteers.
Mothers in Wokingham will have to travel for these services for council-funded support.
Wokingham Borough Council said: "A mobile children's centre will be launched shortly, which will increase the range and flexibility of support to families across the borough, including breastfeeding."
Ms Hall said she was now trying to raise funds to set up an independent NCT service in Wokingham.