Basingstoke school rock band gets Reading stadium gig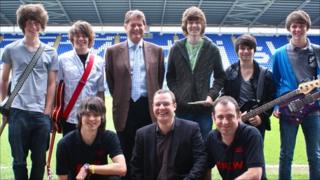 A teenage band from Basingstoke are preparing to play before 20,000 people at the Madejski Stadium in Reading.
RetroGrade will perform during half time when the home side take on Sheffield United.
It is the first time a school band has ever played at the stadium.
The five-piece rock band won the slot after winning a battle of the school bands contest in Reading in February.
Bassist Toby Barlett said: "We are going to enjoy it because gigs like this don't come round very often".
The unsigned band from Brighton Hill Community College have only ever played before audiences of 50 to 200.
RetroGrade, who formed two years ago, are 15 and 16 years old and will be performing three songs in the north east corner of the stadium.
They visited the stadium last week for a photo shoot and to see for themselves how big the venue is.
Toby said: "When you go on to the pitch and see the seats and think that every one of those is going to be filled, it really hits us how big this gig is".
Pete Doyle, founder of the Reading Rock Academy that organised the contest, said: "This is the reason why I set the academy up in the first place - to give musicians a chance in life to play their own songs."
Click here to see a BBC filming of Retrograde performing at the stadium last week.