Bracknell housing development surgery ad 'misleading'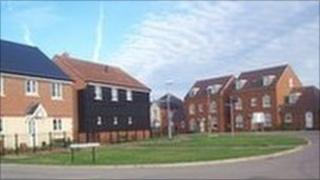 A housing development brochure advertising a planned doctor's surgery to new buyers was misleading, the advertising watchdog has ruled.
The first residents moved into the 1,500-home Jennett's Park site in Bracknell, Berkshire, in 2007.
But the consortium of developers has struggled to find interested parties to build a surgery.
The Advertising Standards Authority upheld a complaint as the surgery site could now be used for other services.
The watchdog noted that in February 2010 the consortium, made up of Persimmon Homes and Redrow Homes, successfully applied to Bracknell council to widen the provision of the surgery site to include any health services, including a crèche, day nursery or day centre.
The developers said the doctor's practice still remains "integral" to their plans but admitted it has been forced to look closely at the scheme as it is not yet an "attractive business proposition".
'Extremely disappointed'
The Advertising Standards Authority (ASA) said: "We considered that, in the context of an ad for a development, the general reader would understand the text 'planned to include' to mean that a doctor's surgery would be provided.
"Because this was not the case we concluded that the ad was misleading."
The Jennett's Park development, to include up to 1,500 homes, is due to be completed in 2014/15 and is also planned to have its own school, pub and retail area.
The developers said: "[We are] extremely disappointed with ASA's decision to uphold this complaint.
"From the very outset, the design of the whole.... development has... been specifically planned around the village centre, an integral part of which has been the future provision of a medical practice.
"Facilities such as this.... rely on a certain density of population before they become an attractive business proposition.
"Viewed in this light we struggle to understand how the ASA has arrived at the conclusion that our use of the phrase 'planned to include' is at all inaccurate or misleading."
The ASA has told the consortium the advert must not appear again in its current form and asked that future adverts for developments only stated "planned to include" if the listed services would definitely be provided.