Wedding party attack at 'Kate's pub' in Berkshire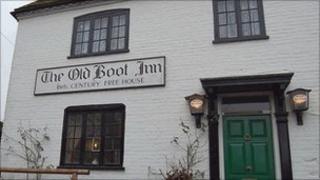 Police are investigating an attack outside one of Kate Middleton's favourite Berkshire pubs after a row at a party celebrating her wedding.
Revellers were at a private party at the Old Boot Inn in Standford Dingley when a man racially abused a woman.
He later attacked two of her friends outside the pub and police were called at about 2120 BST on Friday.
The woman was taken to hospital with a cut to her face and a bruised eye socket. A male friend was unhurt.
Landlord John Hayley, who had returned to the pub after earlier attending the wedding ceremony at Westminster Abbey, said the attacker managed to get into the party without an invitation and became violent after being asked to leave.
The pub is said to be a favourite haunt of the Duchess of Cambridge who grew up in the nearby village of Chapel Row in the parish of Bucklebury.