Reading Greens refuse to form council coalition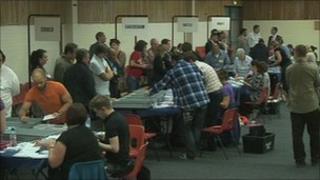 The Green party will not support a coalition deal on Reading Borough Council, the group's leader Councillor Rob White has said.
This means the council is likely to be a minority Labour administration. Before May it had been a Conservative-Liberal Democrat coalition.
Labour group leader Councillor Jo Lovelock said: "We believe we have a mandate to form an administration."
The Greens will abstain in the vote for mayor and leader on Wednesday.
No overall control
After Labour gains in the 6 May local elections, the current composition of the council is Labour with 22 councillors, 16 Conservatives, five Liberal Democrats, two Greens and one independent.
This leaves the council in "no overall control", as a single party does not have an outright majority.
The Green party refused to back either the Conservative or Lib Dem party.
Councillor White said: "An alliance with the architects of public service cuts was simply a step too far. We will not be going into coalition with Labour or with anyone else.
"Our talks with Labour concerning residents' priorities have been more constructive than those with other parties and so we shall not be blocking their efforts to appoint a Labour mayor and council leader."
In coalition talks, transport was the main area of disagreement between Labour and the Greens.
Labour will continue to consult on the third Thames bridge scheme, which Mr White had wanted to see scrapped.
But there are shared policy areas, in which the Greens will support the Labour party. Both groups are committed to improving community care in Reading.
Ms Lovelock said: "Labour won nine out of the 15 council seats and got 40% of the popular vote, and we believe we have a mandate to form an administration and implement our manifesto."