Slough bus station: Silver dolphin or beached whale?
By Linda Serck
BBC News, Berkshire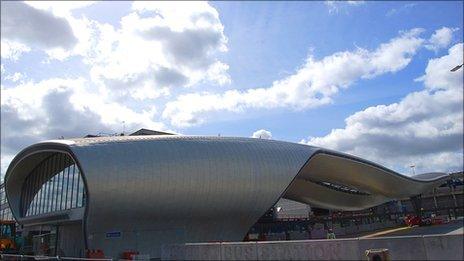 The futuristic look of Slough's new bus station is a far cry from the old 1970s building, which had become a landmark of the town's industrial image.
Its fate was sealed when it starred in the opening credits of BBC hit television comedy The Office and was the first to go in Slough's £450m makeover project - Heart Of Slough.
But despite the modern upgrade and its nod to famous Slough scientist William Herschel (the building's shape was inspired by wavelengths of light from one of his experiments), some Slough residents are still not happy.
"It looks like a beached whale which has all of its back end eaten away by scavengers," said Declan Alford, 67, who was waiting for a bus.
However, Slough councillor James Swindlehurst, was more complimentary with his oceanic mammal description.
"I always describe it as a silver dolphin," he said.
The councillor, who is overseeing the Heart Of Slough project, added: "It's got this incredible mouth and front like a shark - in terms of having these great jaws that open on to the street."
Some residents have said however that this modern design is not in keeping with the rest of Slough.
"I just think it's horrible," said Dennis Burnham, "it doesn't fit in with anything in Slough."
Reuben House said: "It looks like UFO, it looks alright but it doesn't match anything else round here. The station looks old, and this looks too new".
Despite these comments the new station has been designed with thought paid to the Victorian red-brick railway station round the corner.
"The tiled sides of the bus station are designed to reflect the rooves of the mock chateau design that the train station has," said Mr Swindlehurst.
"They were designed deliberately to be a modern equivalent to echo that tiling".
He added: "Most of the buildings of concrete descent round here won't be here for much longer so I suspect it will fit right in by the time we have done some of the other regeneration work."
A number of residents agree with Mr Swindlehurst.
Rashpal Kaur, who has lived in Slough for 20 years, said: "It's very nice, I love it. It's much better because before it was very dirty."
Dawid Chmielewski, 28, said: "It's lovely in my opinion, the last one didn't look too good.
"This one is going to be the new face of Slough."
Following the unveiling of the bus station work will start on the town's library and cultural centre.
Related Internet Links
The BBC is not responsible for the content of external sites.