Stolen jail door found in Newbury after 15 years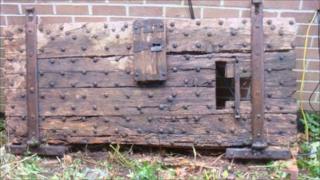 An 18th Century jail door stolen from outside a Newbury museum in 1996 is to be returned.
The door was found by a local resident when he moved into his home five years ago but he only recently decided to look into the door's origins.
When he contacted West Berkshire Museum, staff identified it as the missing door.
The museum already has two jail doors from the cells of Newbury's Guildhall, which was demolished in 1828.
Museum staff believe the door was abandoned in the garden by thieves when they were unable to make a profit from their crime.
The door was stolen from an external display of larger museum items.
An 18th Century water pipe constructed from an elm log stolen at the same time has not been recovered.
West Berkshire Museum is currently closed for refurbishment.
Designers will be asked to consider how the jail doors can be included in the new displays when the museum reopens in 2014.