Reading submits 2012 city status bid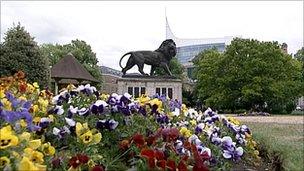 A delegation of supporters has hand-delivered Reading's bid for city status to the government.
The Berkshire town has emerged the bookmakers' favourite to receive the honour as part of the Queen's Diamond Jubilee celebrations next year.
Civic chiefs believe if successful it would bring huge economic, cultural and social benefits to the area, as well as a jobs boost.
Middlesbrough, Bournemouth and Tower Hamlets in London are also bidding.
Blackpool, which had also been a favourite, pulled out of the running on Thursday at the last minute.
Council leader Simon Blackburn said he was not convinced it would benefit the town, saying it was "a distraction".
In a bid to keep costs down, Reading council said there would not be any taxpayers' money spent on the bid and it would use volunteers where possible.
A group was set up which includes community representatives, residents and local newspaper editors to represent the urban population of 213,000.
It is hoped that the town's strong links with royalty, including it being the birthplace of the Duchess of Cambridge, will add to its success, as well as being home to some of the world's top businesses and the Reading music festival.
Jo Lovelock, Reading Borough Council leader, said: "I am grateful to everyone who has put so much into preparing Reading's bid for city status.
"Reading is recognised as the regional economic capital of the Thames Valley but, with increasing competition from across the world, being formally recognised as a city would help us continue to attract investment which means jobs for local people."
The town has missed out twice with bids in the past.
In 2000, it lost out to Brighton and Hove, Wolverhampton and Inverness, and in 2002 to Preston and Newport.
The successful candidate will be announced early next year.
Related Internet Links
The BBC is not responsible for the content of external sites.