Berkshire hospital faces legal action over patient care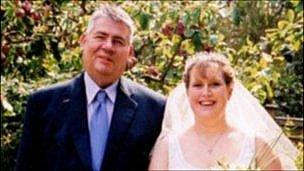 A family is considering legal action after claiming their father died in "excruciating pain" in hospital.
Mervyn Elkington, of Newbury was admitted to the Royal Berkshire with a range of health problems, including blood poisoning and pressure sores.
Berkshire coroner Peter Bedford ruled the 64-year-old died after developing septic shock following surgery.
The hospital said it was confident it did all it could for the "extremely ill" Mr Elkington.
Louise Norton, a district nurse from Thatcham, claims her father suffered "horrifically" shortly before he died in June 2009, three months after he was admitted to accident and emergency.
He was diagnosed with blood poisoning relating to an existing infected leg and pressure sores; a lower respiratory tract infection and severe rhabdomyolysis, a breakdown of skeletal muscle, the inquest heard.
The three-day hearing, which ended on 18 May, was told Mr Elkington's medical history included obesity, type 2 diabetes, chronic leg ulcers, heart failure and lymphoedema, a swelling of parts of the body due to fluid build-up.
"My father was a loving, caring man and we miss him every day," said Mrs Norton.
"He died in excruciating pain. To know that more could, and should, have been done to prevent his suffering is simply unbearable."
Coroner Peter Bedford recorded a narrative verdict, highlighting a "lack of familiarity" by nursing staff with the operation of special beds and pressure mattresses and with specialist wound care.
Increased levels of agency staff "influenced continuity of care" and there was a "missed opportunity" to involve a tissue liability nurse at an earlier time, he added.
He also found the repositioning of Mr Elkington in his bed was hampered by his obesity and hip pain, and the patient declined to consider a colostomy when incontinence infected his sores.
An MRI scan was delayed due to Mr Elkington's weight and revealed severe underlying skin damage which meant "no chance of survival" without surgery.
Mr Elkington had carefully considered the implications and risks of any surgery, which was undertaken on 18 June, the inquest heard.
He developed septic shock and died the following day.
A hospital spokesman said: "We've been formally notified of pending legal proceedings so therefore it is inappropriate for us to respond in any detail.
"However, the coroner's inquest was an in-depth public examination of the facts and circumstances of the sad death of Mr Elkington."