Bracknell £28m cancer centre opens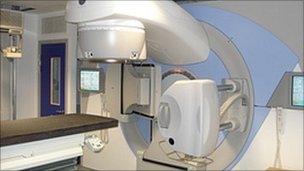 A £28m cancer centre that offers the latest radiotherapy treatment has opened in Bracknell, Berkshire.
A £4m linear accelerator (Linac) can pinpoint where a range of cancers exists and administers radiation treatment to the exact spot.
For safety reasons the machine, which emits radiation, has to be encased in a concrete bunker.
As well as the cancer treatment the new centre also treats people with kidney problems.
The new centre, at Brants Bridge, means that patients from that area will no longer have to travel to the Royal Berkshire Hospital in Reading for chemotherapy, radiotherapy or dialysis.
The centre also offers a range of opthalmology services.
Related Internet Links
The BBC is not responsible for the content of external sites.