Berkshire village's phones cut off after cable thefts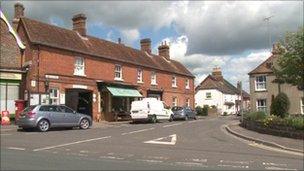 Hundreds of residents in a Berkshire village are without phone lines or internet due to thefts of underground cabling.
Kintbury, which has a population of 2,500, first suffered a loss in phone service on 24 May.
A further two thefts took place over the weekend, which BT said has "seriously delayed" their efforts to restore services.
It added that 475 customers in Kintbury are affected by the thefts.
BT says it is offering a £1,000 reward for information which could lead to the thieves being caught.
Stuart Hunter is the landlord at the Blue Ball pub in Kintbury.
He said his phone line stopped working on Wednesday afternoon.
"We take bookings via our website, and also with credit card payments and debit card payments we need a land-line for those to process," he said.
"We've actually had to turn people away because they had no other means of payment."
Resident Neil Newport said: "Businesses in the town are suffering severely, and it will only be a matter of time before someone could be suffering or die because of the lack of communication available to get medical assistance.
"Even the local Post Office has been put out of action, so we can't even send parcels out of the town."
Paul Hayward, a spokesman for BT, said it could be a number of days before the phone network returned to normal.
"We have suffered further attacks on our network over the weekend, including two incidents of theft of underground cabling in other locations on this cable route, which has seriously delayed our efforts to restore services to these residents," he said.
"Our engineers are doing all they can to repair the network at these additional sites, and restore services as quickly as possible."
Related Internet Links
The BBC is not responsible for the content of external sites.