Town 'does not need premier team'
By Linda Serck
BBC News, Berkshire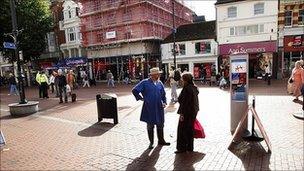 Reading FC fans may be downhearted after their team failed to win a Premier League place, but experts say the town at least has not missed out on the global spotlight.
The club was defeated 2-4 by Swansea in the Championship play-off final on Monday.
And while Reading FC will not gain the estimated £40m in extra revenue for the 2011/2012 season, the town itself is prosperous enough already, according to Dr Steve Musson.
"There might be some benefit in terms of an increased profile for the local area," said Dr Musson, an expert in economic geography at the University of Reading.
"The thing about Reading is that it is already on the map.
"It already has a prosperous local economy and it's already got lots of international investment from companies such as Microsoft and Hewlett Packard."
He said that research done at Wolverhampton University showed that Wolverhampton Wanderers' entry into the top flight in 2009 netted the city "just short of £900,000 a year".
The London Borough of Hammersmith & Fulham announced this month that Shepherd's Bush businesses would enjoy around £700,000 extra a year from Queens Park Rangers' promotion.
Dr Musson said Reading's economy did not necessarily need this extra income that might have come from more away fans visiting the town.
"Reading has been developing its specialism in IT and 'high tech' industries for the past 20 to 25 years," he said.
"I think the benefit from going into the Premier League for Reading is probably less than for maybe a more up and coming local economy like Wolverhampton or Hull."
Professor Tom Cannon from the University of Liverpool, an expert in football finance, said that a top flight club would have given Reading "a massive boost to the town's global profile" as well as the business community.
And Professor Chris Brady from the BPP Business School said Reading FC becoming a Premier League team could have helped the town's city status bid.
"If Reading are constantly in the news and all over TV, that's not going to harm the bid," he said.
"Reading are already strong favourites to win."
But Jinette Gower, head of communications at the Reading Chamber of Commerce, agrees with Dr Musson that Reading does not need a top flight team to get noticed.
"There are lots of positive things coming up," she said, "such as Reading possibly becoming a city and the Olympic flame stopover, which is going to give Reading a high profile anyway."
Related Internet Links
The BBC is not responsible for the content of external sites.