Rolf Harris to launch art exhibition in Windsor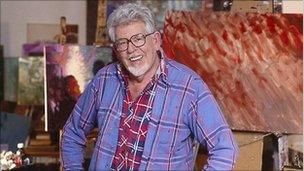 Despite having early success as a champion swimmer, the musician, artist and TV presenter Rolf Harris soon decided his true calling was the arts.
He started painting at art school before moving into entertainment, writing the top ten hit Tie Me Kangaroo Down Sport in the 60s and then landing a job as a BBC children's TV presenter.
Now the Bray-based celebrity has returned to his first love with a new exhibition of paintings in Windsor which opens on Friday.
The 81-year-old artist who has counted the Queen amongst his portrait subjects, will make a personal appearance on the opening night.
Rolf Harris said he learned his distinctive painting style from the Australian Impressionist artist Hayward Veal whom he met after moving to London.
He said: "He took me under his wing, he liked what I did and I gradually learned how to paint in an Impressionist way.
"Those huge paintings I used to do, 12ft by 9ft, that I used to do on TV were a shorthand version of an Impressionist painting."
After working as a children's TV presenter Rolf started work on Animal Hospital which he described as a "earth-shattering, wonderful experience".
He then made a series called Rolf on Art which he says was the "most successful art programme ever".
"It got six million viewers. Unbelievable," he told BBC Radio Berkshire.
Meanwhile, he had also become a cult figure among students in the 1990s who had grown up watching him on TV.
"They all knew my songs from a young age," he said.
"When I went to Glastonbury the first time it was because I'd done the Birmingham University end of year bash.
"They wanted me to do Tie me Kangaroo Down, Stairway to Heaven, Two Little Boys, all my early hits.
"When I got there I did a fantastic show with them."
Following on from his Rolf on Art programme, the National Gallery exhibited several of Rolf's paintings and he was commissioned to paint the Queen as part of her 80th birthday celebrations.
"That was just amazing," said Rolf.
"They've just put out a $2.25 stamp with that picture on in it in Australia."
Rolf will open his new exhibition at the Artique Gallery in Windsor on Friday from 1900 BST.
Related Internet Links
The BBC is not responsible for the content of external sites.