Nesting robins found in South East Water van in Bray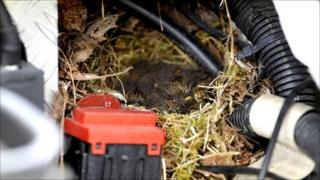 A pair of nesting robins and their five chicks have set up home in the bonnet of a South East Water van in Berkshire.
Staff at Bray Water Treatment Works, near Maidenhead, discovered the birds nesting by the battery after hearing "tweeting noises" coming from the van.
Technician John Filbee said: "We were amazed to find our feathered friends had built a nest in the engine compartment."
The van has been taken out of service until the chicks are fully fledged.
Mr Filbee said the van had been on a trip delivering water treatment chemicals before staff found the birds.
"We immediately stopped using the van and left it in a quiet place on our site at Bray so as not to disturb the adults or their young.
"Thankfully they seem to be perfectly happy and generally ignore what else we are up to, as we go about our daily business of supplying water."