Hurst springer spaniels stolen by 'bogus buyer'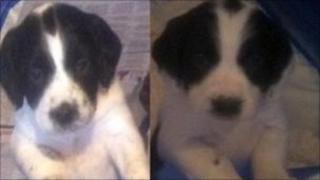 A woman has appealed for the return of two puppies stolen from her Hurst home by a man she said posed as a potential buyer.
Sue Ramaro said she was devastated after the man snatched the six-week-old springer spaniels on Friday.
She had placed an advert to sell the puppies, which she said are worth £350.
The man claimed his partner had a sprained ankle. He took the puppies outside to allegedly show her, but put them in his car and drove off.
Ms Ramaro said: "They are too young to be separated from their mother."
The puppies were stolen from Keyersbridge Farm, Wokingham Road, at 1700 BST.
They were too young to have been micro-chipped, and have full tails but their dew claws have been removed, said Ms Ramaro.