Cash-strapped Slough Ladies hockey team make appeal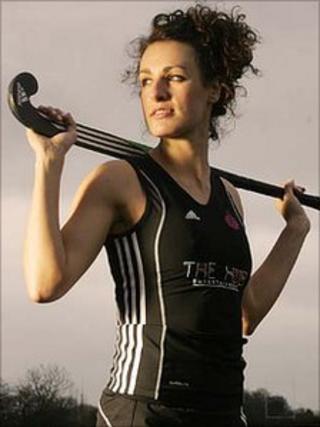 A Berkshire ladies hockey team is struggling financially despite being one of the top four clubs in Europe.
Slough Ladies are in the EuroHockey semi-finals in Holland on Friday and have three GB international players.
But midfielder Ashleigh Ball said that despite its success the team has been struggling to find a sponsor.
"It's very stressful," she said. "It's difficult to focus on performance when you're figuring out ways to finance kit, travel and hotels."
England and Great Britain players Ball, Chloe Strong and Nicola White have more than 100 caps between them.
Slough Ladies came fifth in the National Premier League this season, having been crowned champions the previous year.
At the EuroHockey semi-finals they are "looking for a place on the podium," said Ball, who has been with the Slough club for three seasons.
But the players were contemplating funding their own kit and trip to Holland until a friend of Ball, who runs independent record label Hub Entertainment, offered to sponsor the team.
She added that the club as a whole does not have the "infrastructure" in place to set teams up with local companies who could sponsor them.
She said: "We are a highly successful team, but we are now struggling to get back up to the level of other teams."