Queen's couturier creates royal fashion for Ascot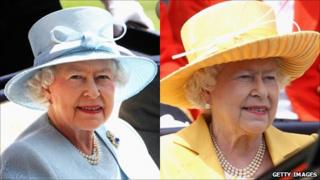 Rarely is the Queen's outfit so much the subject of frenzied speculation as on the first day of Royal Ascot, when bets are traditionally taken on the colour of her hat.
As one of the most-photographed women on the planet, she has been declared a "glamour icon" by Vogue.
Ascot-born royal couturier Stewart Parvin is the youngest of the Queen's dress designers.
He was tasked with giving her a "new look" a decade ago.
Since then the Queen has worn his designs to many occasions from Royal Ascot to a state visit from President Obama last month.
Mr Parvin told BBC Radio Berkshire's reporter Maggie Philbin how it all began in 2002.
"Just before the last Jubilee her team had a meeting and decided the Queen needed a new wardrobe and a new look," he said.
"The Queen's secret shopper came to us.
"I had no idea who she was."
Mr Parvin said he was surprised to learn the mystery shopper turned out to be the Queen's lady-in-waiting.
"Angela, who is the Queen's dresser, is a blonde Liverpudlian lady who calls a spade a spade," he said.
"She's great fun, but she's just not what you would expect one of the Queen's ladies-in-waiting to be like."
'Beautifully made'
The outfits designed by Mr Parvin were a success, and last year the Queen wore three of his outfits to Royal Ascot.
"We are given a brief for any special occasions she might be doing," said the designer.
"The Queen can't wear the same outfit as anyone else."
Mr Parvin said the Queen knew "exactly what she wanted" when it came to clothes.
"They have to be beautifully made. The quality of them is as important as the style of them," he said.
"She's has always had clothes made for her so she knows exactly what she likes."
Mr Parvin was at Royal Ascot in the Parade Ring on Tuesday, spotting many guests wearing his outfits, including the Princess Royal.
He said: "I love seeing the horses, the clothes, everything. It's a wonderful day."
And his verdict on the Queen's frock on the first day of Royal Ascot 2011?
"I saw her go past in her carriage to the Royal Enclosure," he said.
"I thought her clothes looked pretty and fresh, and there was a hint of tangerine in her hat which was really on trend," he said.