Rain at Royal Ascot does not dampen Ladies' Day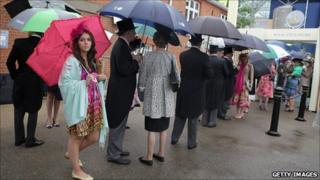 As the train pulls into Ascot Station, a sea of people in hats, fascinators and top hats simultaneously put up umbrellas.
It is a rainy start to Ladies' Day, the celebrity-packed fashion highlight of Royal Ascot week.
But race-goers remain upbeat despite the downpour.
Ben Carder, who has bought Ascot tickets and a picnic as a Valentine's Day present for his girlfriend, said: "It's just British weather isn't it?"
The organisers of Ascot expect a record 597,000 visitors this year, and say their corporate hospitality bookings are up following a drop since the recession.
By midday, despite the rain, the sky is filled with helicopters and limousines are queuing along Ascot High Street.
A group of five pile out of a limousine. They come from as far afield as Holland and Devon, and are celebrating a joint 50th birthday with a drive in a limo, champagne and a day at the races.
"I've been up since 5.00am," says Heather Perkins. "I was so excited about coming here today."
Later on the sun has begun to shine, and television celebrity Sir Bruce Forsyth's entrance raises a cheer from the crowds.
Footballer Michael Owen and Boyzone singer Shane Lynch are causing a stir among the paparazzi at the front gate.
Rumours are flying around that Liz Hurley has tweeted she is on her way and will be wearing a thermal vest under her Versace outfit.
A group of women in hats decorated with huge birds are monopolising the attention of photographers at the Ascot entrance.
'Cycle of fashion'
Milliner Jayne Elwell said she thought hats were becoming more popular.
"It's the cycle of fashion," she said. "They were out of fashion for so long in the 90s. Now people realise how they can completely transform your outfit."
Datchet hatter Margaret Partington agrees. "Tiny fascinators are not so fashionable now," she says. "It's more about plate hats, and large hats, in colours like nude, royal purple, hot pink and grey."
On cue, the royals arrive in their traditional carriage procession into the parade ring, with the Queen wearing pink. The Duchess of Cambridge's mother Carole Middleton was dressed in a champagne-coloured outfit with a matching wide-brimmed hat.
The arrival of the Queen signals the start of the racing, and people begin thronging around the bookies and the bars which line Royal Ascot.
Each year, the crowds consume some 170,000 bottles of champagne, about 10,000 lobsters, 5,000 oysters and 18,000 punnets of strawberries.
Although some shops on the High Street close during the week of Royal Ascot, Shepherds Florist opens early and finishes late, supplying hundreds of buttonholes, headdresses and corsages to race-goers.
Pubs such as Jagz, the Bar 1 and the Mad Hatter wine bar are packed out during the week-long racing event with people celebrating their wins.
Nick Smith, head of communications at Ascot Racecourse, said this year's Royal Ascot was particularly special.
"It's 300 years of racing," he explained. "Twelve monarchs have seen the course."