Duke and Duchess of Cambridge to honour Irish Guards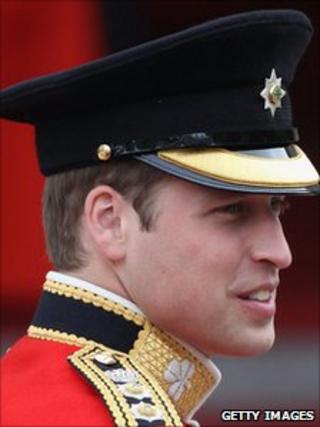 The Duke and Duchess of Cambridge will present operational medals to the Irish Guards in Windsor on Saturday.
It will be the first time the royal couple have visited the regiment since Prince William became Colonel of the Irish Guards earlier this year.
Prince William will also present the families of three fallen servicemen with the Elizabeth Cross on Saturday.
The 1st Battalion Irish Guards returned in April from a six-month tour in Afghanistan.
Many Irish Guards took part in ceremonial duties at the royal wedding shortly after returning from Afghanistan.
A statue to commemorate the regiment will also be unveiled on Friday 24 June as part of the two-day Armed Forces Day programme.
On Saturday 25 June, there will be a march through Windsor, a service of remembrance in Windor Castle's St George's Chapel and a medal parade at Victoria Barracks.
The Duke and Duchess of Cambridge will meet privately with families of those who served in Afghanistan before the parade.