MP criticises funding cuts over Slough shed homes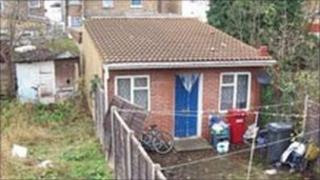 An MP has accused the government of cutting a Whitehall fund which is meant to stop people living in garden sheds in her constituency.
Slough Council says 500 households have converted their sheds to house migrant workers.
Fiona Mactaggart, Labour MP for Slough, said this type of accommodation was a "serious problem" in the town.
Conservative minister Eric Pickles said the council had enough funding to deal with the issue.
Replying to Ms Mactaggart in the House of Commons yesterday he said: "I regret to inform the house that Slough sheds have not been to the the 'forecourt' of the department's mind.
"If it is an important aspect, frankly I can't believe that the local authority cannot find the necessary resources to prioritise this."
Houses of multiple occupancy and converted sheds are of concern to the council as they provide substandard accommodation, are considered to blight the town and in some cases are classified unfit to live in.
Slough Council was awarded £350,000 funding by the former Labour Government to deal with housing problems associated with high levels of migration to the area.
In July last year it was informed by Mr Pickles' Department of Communities and Local Government that it would receive £175,000, a 50% reduction.
Multiple occupancy
In order to make sure the project was able to continue, the council put in an additional £100,000 from its own coffers in 2010/2011
Ms Mactaggart said the council was still working to stop people living in sheds and houses of multiple occupancy.
She also criticised the neighbouring borough of Windsor and Maidenhead for not building more affordable housing.
She said: "It would take the pressure off Slough.
"People want to live near where there's work. There is a lot of work in Slough, but that means there is a need for housing for people who want to do those jobs."
Windsor and Maidenhead Council said it did not want to respond to Ms Mactaggart's comments.