Reading scraps peak bus fare charges for disabled people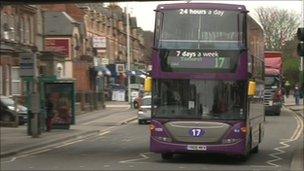 Reading Council's Labour administration has reversed the decision to charge disabled people to use buses at peak times introduced in April.
It will not reintroduce free peak travel for the over-60s which was also stopped under the previous Liberal Democrat-Conservative council.
The free travel concessions for disabled people will start in September.
A Conservative spokesman said he did not oppose the decision.
It will cost the council £65,000 a year to reintroduce free travel for disabled people before 0930 BST.
The changes will affect 3,500 disabled people and about 1,500 of their travel companions.
Conservative transport spokesman councillor Richard Willis said: "The council said it was funding the disabled bus travel at peak times from £80k it plans to raise from bus lane enforcement fines.
"I am happy to support this, providing this forecast is correct.
"However I am concerned about how the council is going to pay for things such as green bins now they have got rid of the charges.
"They are promising to reverse a number of measures we brought in to balance the books and to deal with the £200m debt we inherited."
Labour's cabinet member for transport, Councillor Tony Page, said: "The changes we are making are funded from the existing budget and don't involve extra expenditure over the approved budget.
"They are funded by savings elsewhere or increased income. The council's reserves are untouched."
In most of the UK, people are only allowed to use their concessionary bus passes after 0930 BST.
Related Internet Links
The BBC is not responsible for the content of external sites.