MoD confirms Arborfield Garrison closure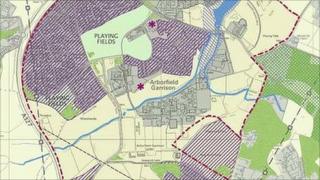 The Ministry of Defence has confirmed Arborfield Garrison in Berkshire will close, opening the door for thousands of houses to be built on the site.
The site will be for sale by 2015 as part of a government defence review on troop redeployment and disbandment.
Campaigner Martin Rutter said it was an "unwanted development" that could bring around 7,000 cars to the area.
Wokingham councillor Angus Ross said he was "delighted to have some certainty" that the garrison will close.
Wokingham Borough Council's public consultation period on the development runs until 27 July.
'Absolutely dreadful'
Plans for 3,500 houses on the site and areas to the south and west have been in place for 18 months.
Mr Rutter, chairman of the Arborfield Garrison Residents Action Group (AG-RAG), said campaigners were "very concerned".
He said: "We don't want them to start on the virgin green fields that they are proposing. We think that would be absolutely dreadful for the area."
The group is against more housing but if the plans go ahead Mr Rutter said campaigners would demand the council ensures the MoD has "completely left the site" as it would otherwise impact on the development's layout.
Mr Ross, head of strategic highways and planning, said: "We have constantly supported the necessity for having an infrastructure plan for the whole development before any housing goes up."
He added: "We're delighted to have some certainty because the decision on whether the MoD is going to move has been hanging over us for a long time."
The garrison is currently a training establishment for the Royal Electrical and Mechanical Engineers (REME) and houses the aeronautical division.
An MoD spokeswoman said the plan was to move all the posts at the two REME bases in Berkshire and Bordon in Hampshire to RAF Lyneham in Wiltshire.
The housing development is part of a masterplan to build 10,000 homes over the next 20 years at four main sites in Wokingham borough.