Slough pilots forced marriage campaign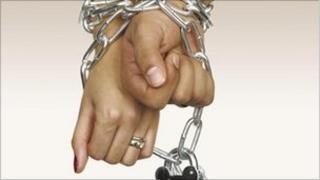 Pakistani women in Slough are helping to pilot a campaign to highlight the issue of forced marriage.
Set up by the JAN Trust, a London-based women's charity, the first workshop attracted more than 150 women, according to founder Sajda Mughal.
Mrs Mughal said that a local imam gave a talk to inform attendees that forced marriage "is not promoted in Islam".
She added: "We've raised a topic which is a taboo, but women cannot suffer in silence."
The campaign, called Mujboor ('forced' in Urdu), will run in Slough until March and will be taken around the UK afterwards.
Figures from the Foreign and Commonwealth Office's Forced Marriage Unit (FMU) show that more than half of the 1,735 possible forced marriage cases it dealt with around the world between January and December 2010 involved people of Pakistani origin.
Of these figures, 14.6% were solely linked to the UK.
Mrs Mughal said Slough was chosen as a starting point because of the town's high Pakistani population.
"We carried out a consultation with over 1,000 Pakistani women from both Slough and London," she said.
"And from that it emerged a large number had suffered a forced marriage or knew of individuals suffering a forced marriage.
"They wanted the support, the awareness raising and the education."
As a result, the workshops help to explain the differences between a forced marriage and an arranged marriage.
A forced marriage occurs when it is carried out against the will of the bride or groom - or both.
An arranged marriage takes place when both parties consent to the assistance of their parents or a third party in identifying a spouse.
"The innovative side to the workshop is having an imam strengthening the project by condemning forced marriage and highlighting to people that it does not exist in Islam," said Mrs Mughal.
"It's been labelled as a religious practice when it's not."
The workshops also outline women's rights and highlights agencies that can help victims of forced marriages.
One Pakistani woman, from Slough, who wished to remain anonymous, said the first workshop on Monday was "very eye-opening".
She added that she came along because she knew women who had gone into refuges as a result of a forced marriage.
"As soon as I saw the leaflet I thought it would be good to have the knowledge," she said.
"Women in the Pakistani community mostly keep quiet. They think it is shameful to talk."
An FMU spokeswoman said that the department's statistics were not "a full representation of the issue".
She said: "We believe forced marriage exists in many other communities and we will continue to work to raise awareness."
A spokesman for the Pakistani Welfare Association in Slough said that he had "never come across anyone in Slough who is in a forced marriage" and that the association would not be involved in the campaign.
Mrs Mughal said: "Forced marriage is a cultural practice, it has occurred over centuries within the Asian subcontinent and as people have migrated to the UK they have brought their cultural practices with them.
"We of the JAN Trust thought we needed to do something about it."