Windsor Castle's Round Tower reopens for tours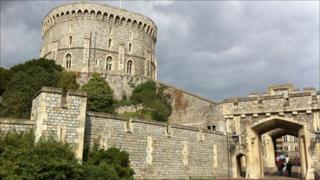 Windsor Castle's Round Tower has opened to the public for the first time in more than three decades.
The building closed in 1975 for work to prevent subsidence and was later converted into office space for the Royal Archives.
Now visitors to the 800-year-old landmark will be able to walk up its 200 steps to take in views of the town.
A new Conquer the Tower tour will also allow visitors to see the castle's flagpole up close.
The Round Tower was reopened to the public on Monday.