Social media is monitored ahead of Reading Festival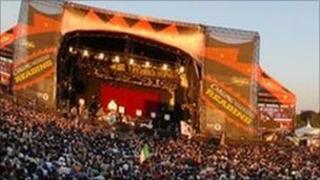 Social networking sites are being monitored by police ahead of this weekend's Reading Festival.
About 90,000 people are expected at the site over the next four days.
Police have been gathering intelligence through social media to see if any groups or individuals are planning to make trouble.
So far they say they have "no specific intelligence at all" to suggest any kind of "riotous behaviour" is planned for this year's festival.
Last night
Supt Stuart Greenfield, who is responsible for policing the festival, said it would be "naive" for police not to consider the events of recent weeks in terms of their planning for the festival this year.
"What we'll do is treat it like any other year but be mindful of the fact that feelings are perhaps running high at the moment," he said.
Thames Valley Police will be tweeting from the festival all weekend with information about dispersals, arrests and crime prevention advice from their Reading Festival Twitter account.
One man has was arrested on suspicion of ticket touting and eight others moved on by police on Wednesday.
Police will also focus their efforts on Sunday, the last night of the festival.