Newbury Racecourse homes plan 'disappointing'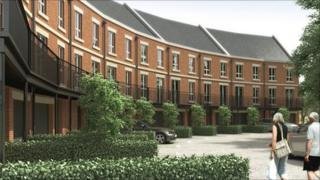 Plans approved by a council for 421 homes at a Berkshire racecourse are a "disappointment", a councillor said.
The first phase of a multi-million pound development at Newbury was given consent by West Berkshire Council.
But ward councillor Roger Hunneman said the plan flouted the council's affordable housing policy and said residents were concerned about traffic.
A Newbury Racecourse spokesperson said redevelopment plans "have involved an extensive public consultation".
The masterplan for the 309-acre site includes 1,500 homes, of which 450 will be affordable shared equity housing or available to rent.
But Lib Dem member Mr Hunneman said the development had disregarded a council policy in which affordable housing was mixed with regular housing.
He said: "All the affordables have been pushed in the less pleasant parts of the site in the north west area."
A council spokesman said: "Placing affordable housing on prime sites means that are unlikely to remain affordable. What has been achieved is the best fit of a mix of housing."
He said traffic considerations were agreed when outline planning permission was granted in April 2010.