Windsor reveals 'spectacular' plans for Diamond Jubilee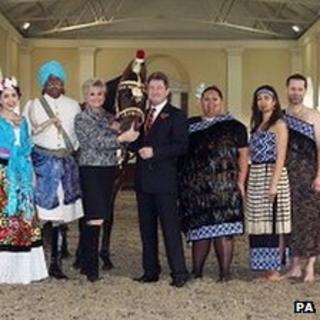 Performers and horses from around the world will take part in a Diamond Jubilee Pageant in Windsor in May.
The World Comes to Windsor Pageant will take place in the grounds of Windsor Castle over three days and is expected to attract 12,000 spectators.
The event aims to take spectators on a "journey around the world" and will feature 500 horses and 800 performers, in military and equestrian displays.
The Queen has said she will attend the pageant's final performance.
Simon Brooks Ward, the director and producer of the event, has already been organising the pageant for 18 months.
"The Queen has been on over 250 state visits on her 60-year reign," he said.
'Bursting with pride'
"We want to make people understand and enjoy and celebrate that the Queen has done so much for this country and for the international community."
The pageant will open with displays from the Mounted Band of the Household Cavalry Regiment and the King's Troop, Royal Horse Artillery.
The show will then travel around the world featuring performances from the Royal Canadian Mounted Police, Mexican singers and dancers, Cook Island dancers, New South Wales Mounted Police and Aborigines, Dhol drummers and dancers and the Omani Mounted Activity Ride.
The pageant will take place in the evening following the Royal Windsor Horse Show.
The arena will be transformed with a set including images of Buckingham Castle.
Alan Titchmarsh and Angela Rippon will be ambassadors for the event.
Mr Titchmarsh said the occasion would be "bursting with pride, not just for the British nation but for all those nations that have been invited to participate in it".