Three arrested over stolen Maidenhead memorial statue.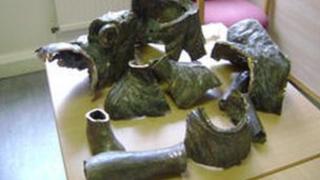 Three men have been arrested over the theft of a bronze memorial to four Berkshire schoolboys.
The statue of a boy and a dog was taken from Ray Mill Island at Boulter's Lock near Maidenhead between Friday evening and Saturday morning.
Thames Valley Police raided an industrial estate in Maidenhead and found the statue cut to pieces.
The men, aged 31, 26 and 24, have been arrested on suspicion of theft and remain in custody.
The statue, called The Companions, was made by Maidenhead artist Eunice Goodman.
It commemorates four boys from Altwood School in Maidenhead who died on a skiing trip in 1988.