Newbury's mystery giraffe graffiti causing stir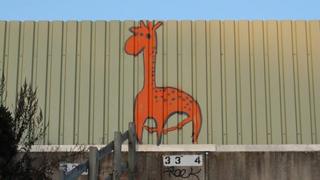 Sightings of bright orange giraffe cartoons are causing a stir in a Berkshire town.
A mystery graffiti artist has left at least four of the unusual tags on road bridges in Newbury - all on or near the A34 Newbury bypass.
Police have said that the artist has caused criminal damage and could be prosecuted if caught.
The cartoons have sparked light-hearted discussion on forums over whether they are art or vandalism.
Piers Fenwick from Woolton Hill said: "In a funny sort of way they're quite charming because they look similar to what you might find in a child's bedroom.
"Personally I must admit I like it as it's one of those things that cheers you up."
'Custodial sentence'
Comedian Jack Dee also remarked on the giraffes during his show at the Newbury Corn Exchange on Saturday.
Newbury resident Phil Spray said he also liked the giraffes but added he "wouldn't want to see it on a historic building or on my own wall."
A member of the Newbury Today online forum said: "It's not art. It's vandalism. Lock them up and throw away the key."
Surinder Bhangu from the Highways Agency admitted the graffiti was "quite sweet" but said each giraffe would cost about £500 to clean up.
He added: "The idea of somebody clambering around on our structures and putting themselves in danger is not a good one."
Thames Valley Police warned the graffiti artist to stop the tagging, despite the interest it has provoked.
A spokesman said: "This type of activity is classified as vandalism and criminal damage and anyone caught doing this will be arrested and put before the courts, which may result in a custodial sentence or a significant fine."