Sandhurst Academy signs covenant with Bracknell Forest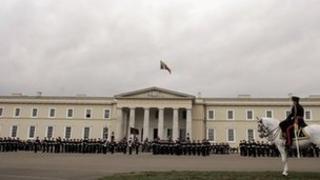 Representatives of a Berkshire council have gathered at the Royal Military Academy of Sandhurst to pledge their support for the wider army community.
Bracknell Forest Council and the Bracknell Forest Partnership pledged to support military personnel.
The Armed Forces Community Covenant was signed at the officer training establishment at 12:00 GMT.
It is hoped the covenant will help soldiers to become more aware of local public services available to them.
Councillor Paul Bettison signed the pledge along with Timothy Wheadon, chief executive of the council and chairman of the Bracknell Forest Partnership, and Major General Patrick Marriott, Commandant of the Royal Military Academy of Sandhurst.
Mutual support
He said military personnel sometimes had "difficulties" understanding what services were available to them at home because of the necessity of being frequently absent from the UK on active service.
"Having returned to this country, having served their country so well, we wouldn't want them to be at a disadvantage compared to people who have stayed here," he said.
The Community Covenant is a statement of mutual support between local people and armed forces personnel based in the area.
Its aim is to encourage understanding and awareness, remember the sacrifices made by the armed forces and encourage activities which help integrate the armed forces community into local life.
Bracknell Forest's covenant is among the first in the UK.
According to the MoD, only a "handful" of local authorities have so far signed a pledge to support their local soldiers.
Lt Col (Retd) Roy Parkinson said: "The scheme will benefit those serving at the Academy and their families and those who choose to settle in the area once they leave the army."