Rising river levels shut Loddon Bridge park and ride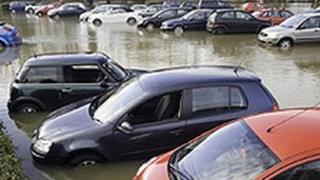 A park-and-ride site in Berkshire has been closed because of rising water levels in a nearby river following Tuesday night's stormy weather.
Loddon Bridge Park and Ride at Winnersh will be closed all day Wednesday, Wokingham Borough Council said.
A spokesman said the site may reopen on Thursday if the water levels in the River Lodden stabilise.
Staff are monitoring the river and car park, and an Environment Agency Flood Alert warning is in place.
In February 2009, dozens of cars were submerged when the river burst its banks due to melting snow upstream.
As a result, the local authority and its park-and-ride partners agreed the facility would automatically be closed if an Environment Agency Flood Watch was issued.