Berkshire free school meal numbers rise by third in year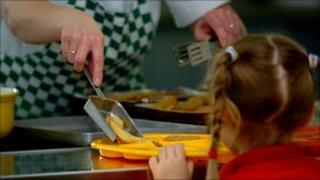 The number of Berkshire children claiming free school meals has risen by more than a third in one year.
The 36% rise brings the number of pupils of all ages to 12,719, according to the Department for Education.
Experts put the rise down to the economic downturn and efforts made to remove the stigma attached to taking the free meals.
The figure is higher than the national average, which shows a 25% rise across local authorities in England.
Chris Wellings, from Save The Children, said he was "very concerned" at the "striking figures".
'Slice of bread'
Kathryn Deacon, from Reading, said she she used free school meals because she could only afford to give her children "a slice of bread" for lunch otherwise.
She said she did not understand the stigma behind taking the free food offer.
"If you can claim income support, people expect you to do so.
"But if you claim free school meals it's 'oh, can't they feed their children?'"
She thinks the simpler process of applying has encouraged more families to claim, as it no longer involves handing over personal financial details to the child's school.
Claire Rick, from the School Foods Trust, said the pupil premium cash incentive for schools - currently £488 per pupil from the government - had led to schools doing more to encourage eligible families to apply.
Mr Wellings blamed "rising unemployment and the current squeeze on people's living standards".
Extra £290,000
Local authorities are responsible for providing free school meals in a secure environment.
In Reading, Berkshire's county town, the number of children claiming school meals has risen by 29% to 3,249, which the council said had cost it an extra £290,000.
Borough councillor for education John Ennis said it was "money that we're more than prepared to spend".
"Our children's well-being comes first in this town."
Parents who receive income support and some other benefits are eligible for free school meals.