Dumped Berkshire Christmas puppies reunited one year on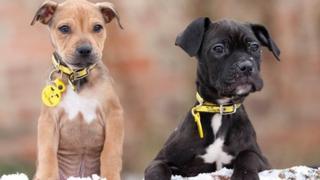 Two puppies which were abandoned in the snow in Berkshire last December have been reunited to highlight an annual animal campaign.
Staffordshire Bull Terrier Brandy and Boxer-cross Pudding were dumped in Reading when they were 12 weeks old.
Thought to have been bought as presents, they recovered at the Dogs Trust, Newbury, before being rehomed.
Dogs Trust, which cares for more than 16,000 dogs each year, has urged people to buy puppies responsibly.
Brandy and Pudding were abandoned on 22 December 2010 and rehomed earlier this year.
Mark Wright, from Thatcham, adopted Brandy, who was left on a street, and Pudding, who was found in snowy woodland, went to live with Kat Eighteen, from Reading.
Maureen Iggleden, manager of Dogs Trust Newbury, said: "Pudding and Brandy survived against all odds and they now lead happy and healthy lives with their new owners.
"Not all puppies are so lucky and we urge anyone considering buying a puppy for Christmas to consider the responsibility that comes with a puppy - they require a lot of time and commitment."