Newbury flood defences scrapped if cash not pledged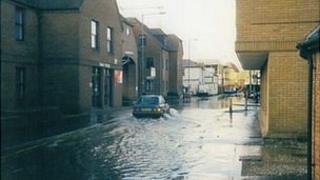 A £1.5m flood defence project in a Berkshire town will be scrapped if local businesses do not contribute towards its cost, the council said.
Businesses failed to come up with their required funding before Christmas and £89,000 has to be found by 20 January.
The town could be at risk of serious flooding due to the raised position of the Kennet and Avon Canal.
Without the defences a major flood could potentially last for several weeks, West Berkshire Council said.
Jon Winstanley, from the council, said: "It's potentially disastrous, everyone knows how devastating flooding can be. Local businesses have got to recognise what's in it for them.
"All the funding has to be found, you can't build two thirds of the flood defences - it's an all or nothing scheme."
The council said it was looking for at least £500 from small businesses with larger businesses contributing more.
Major floods
Ginette Gower, of Thames Valley Chamber of Commerce group, said there was "considerable anger" among businesses which claim they are already paying enough in business rates.
West Berkshire Council has so far contributed £180,000 to the project and Newbury Town Council has paid £45,000. £1.2m has already been pledged by central government.
Newbury experienced major floods in 1947 and 1960, with smaller scale floods affecting the town more recently in 2000, 2003 and 2007.
The work includes reinforced and raised river walls and embankments, ground level raising and improved drainage.
The Environment Agency said the defences would protect about 381 residential and 69 commercial properties.