Gaelic football success for Royal Berkshire Hospital nurses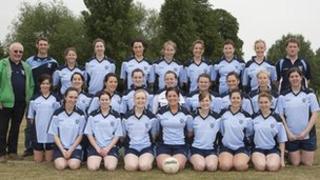 An influx of Irish nurses at a Berkshire hospital has led to the creation of a successful ladies Gaelic football side.
St Anthony's Gaelic football team draws its players from staff at the Royal Berkshire Hospital (RBH) in Reading, which has about 150 Irish nurses.
Many have left the Republic of Ireland because of the economic situation.
The team is due to play a demonstration match at Reading's Madejski Stadium on Sunday.
The St Anthony's team was set up in 2010 by Dee Donohoe, 29, who works as an occupational therapist in the stroke unit at RBH and plays as a forward in the side.
Ms Donohoe, who moved to Reading from County Mayo in 2002, said: "It was an idea which came from the girls living away from home wanting a bit of home comfort and tradition.
League winners
"It's about more than the sport - it's about support, and getting to meet people when you have moved away from home for the first time.
"We've had the core group of Irish girls bolstered by others just wanting to learn a new sport - we've got a pretty successful team on our hands."
The team will be playing a demonstration match at the half time break during the London Irish v Sale Sharks rugby union match at the 24,000 capacity Madejski Stadium.
"We're hoping we can show people how far we've come," said Ms Donohoe.
In their first year of competitive action, the team won the London Junior Championship and Junior League, losing only one game in the process.
There is also a St Anthony's men's team, which has been going since the 1960s.
The women's squad is made up of about 80% of Royal Berkshire Hospital staff - nurses, nursing students, occupational therapists and physiotherapists.
'Recruited very heavily'
It is estimated that 42,000 Irish people emigrated last year - almost 1% of the Republic's population.
With the unemployment rate edging towards 15%, the same number is expected to leave next year, if not more.
"It's all the qualified people who are leaving. It'll be a while before the economy is strong enough to sustain all the jobs in the health sector," said Ms Donohoe.
A Royal Berkshire Hospital spokesman said: "We have recruited very heavily for nurses in Ireland over the past couple of years as there are always shortages of nurses in this part of the country.
Another 19 Irish nurses are due to start work at the hospital this week.