Bracknell market traders angered by 3M building plans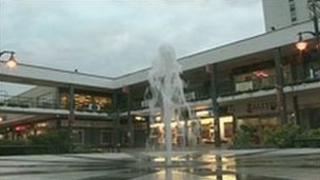 Berkshire market traders say they are being kept in the dark about a £50m plan to redevelop Bracknell with a new residential area.
They say they were not consulted in advance about proposals to replace the town's derelict former 3M building, where their indoor market is based.
However, Bracknell Forest Council says the plans are still at an early stage.
The architects behind the plan, Skidmore, Owings and Merrill, designed the Infinity Tower in Dubai.
Developer Comer Homes say the scheme will include 311 flats, a gym and two business units suitable for a restaurant or retail use.
'Little community'
The developer said the block of flats would fit in with existing plans to regenerate Bracknell, which the council has been working on since 2002.
Pending feedback from a consultation, the developer expects to submit a planning application within the next few months.
An exhibition was held in Bracknell last week to let people know about the plans.
Hazel Kent, who runs the indoor market café in Bracknell, said: "It's our little community. The actual market itself is a bit dingy but we battle through it."
She says stall holders were not consulted before the public about the plans for the area of Bracknell where their indoor market is based.
Market traders are not sure where the market will be relocated if the former 3M building is pulled down.
Stall holders say their stock will be ruined if they are forced to move the market outside.
But Paul Bettison, leader of Bracknell Forest Council, said the council would work to ensure the future of the market.
"The plans that have gone on display recently are interesting, but they are speculative.
"We look forward to receiving a planning application from Comer Homes but we haven't yet."