NUT says parental choice 'largely a myth' in Berkshire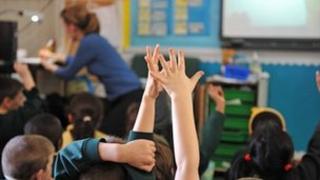 Parent choice in Berkshire has been described as a "myth" by the Wokingham National Union of Teachers (NUT) because of pressure on school places.
Figures from the Office for National Statistics show that by 2015 the county will have a predicted 7,000 fewer places than needed.
Wokingham is one of the worst affected areas with a shortfall of 2,235 places.
A Wokingham Borough Council spokesman said it would only be a problem if it did not expand schools as planned.
'Unpredictable factor'
NUT division secretary Robert Wilkinson said the lack of places showed the policy of parental choice was "largely a myth".
He added the problem was compounded by a "considerable number" of parents from other local authorities, such as Reading and Bracknell Forest, seeking to place their children in Wokingham schools.
Samantha Bramwell, from Twyford, travels four-and-a half miles to her daughter's school after failing to get a place at the school 300 metres from her home.
She said: "We've already had to buy another car to manage the school run and we don't have after school care so I'm having to cut my hours short to look after her in the afternoon."
Rachael Wardell, from the council, said it was virtually impossible to guarantee places because it was bad to run an "excessive surplus".
But she said overall the council had an extra capacity of about 700 places and in 2012 planned to create 520 new places in local primary schools.