Engraving identifies clock stolen from the Royal Berkshire Hospital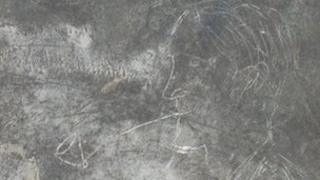 A unique engraving on the back of a clock stolen from the Royal Berkshire Hospital has led to its safe return.
In 2004 the Victorian clock disappeared from the top of the staircase in the entrance hall of the Reading hospital.
Six years later it was spotted in an auction catalogue by David Card, who restored it in 1979.
The horologist said confirming its identity with the engraving on the back of the clock's dial felt like "finding the tomb of Tutankhamun."
'Unusual picture'
"A friend happened to come by and show me a catalogue," said Mr Card. "As I was throwing it away the page opened up and there was a small photograph of a clock that suddenly looked strangely familiar."
By this stage the timepiece had already been sold to a buyer in New York but Mr Card called the auction house and persuaded them to delay the shipping.
"I knew it had a very unusual picture of the clock maker on the back of the dial.
"I've never seen anything like it before or since.
"But when I went to London and looked on the back I couldn't find the picture because the whole thing was so filthy.
"My son in-law took it outside and then he shouted that he'd found it. It was terribly exciting, like finding the tomb of Tutankhamun."
The picture is thought to be of the 19th century Reading clock maker, W Snowdon.
He also inscribed "The Bung" which is assumed to be his nickname.
The auction house relinquished the clock and Mr Card was able to restore it for the second time.
It is now in perfect working order and is back on public display at the Royal Berkshire Medical Museum.