Adam Ant: 'Stanley Spencer inspired me to pursue art'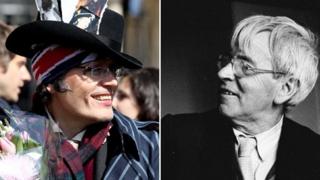 Back in the 1950s, it would be a common sight to see artist Stanley Spencer walking around his beloved Berkshire village with a pram and umbrella.
For one person, it was a treasured childhood memory of many school holidays in Cookham. That person was Stuart Goddard, who grew up to be known to 1980s music fans as Adam Ant.
As a child, Goddard spent many weeks in Cookham and grew up being inspired by the painter, who he calls his "favourite artist of all time".
Now, the former pop star is supporting a new exhibition to mark the 50th anniversary of the village's Stanley Spencer Gallery.
The gallery originally opened on 7 April 1962, three years after Spencer's death.
Last work
It was set up in the village's former Wesleyan chapel, where Spencer as a child worshipped with his mother.
The subject of religion continued throughout Spencer's work, using Cookham as the scene for many religious-themed paintings.
His last work, which he never finished before his death - Christ Preaching At Cookham Regatta - will be one of more than 50 works that will be on show in the exhibition.
For Goddard, who came to be known for the brocade Hussar jacket and the white facial paint of Adam Ant, the work had a lasting impact.
"I think it's a wonderful painting and it inspired me as a kid to want to do art and go to art school," he said.
"He's my favourite artist of all time and I think he is the greatest British artist in the last 150 years."
But the 1980s star had different first memories of the artist, who he first saw in Cookham while playing there with his four cousins.
"I actually saw Stanley Spencer when I was about four," he said.
"I saw him coming over the bridge with his umbrella and his little pram. We thought he was the bogeyman and we hid."
'So disgusting'
Goddard, 57, who had hits with Prince Charming and Stand And Deliver, spent summer holidays in the late-1950s with his family in Cookham, an affluent village near Maidenhead, on the River Thames.
His family knew Spencer and the young Goddard became enthralled with the painter and his work.
"My great-grandmother used to run the laundry there and she used to do Spencer's laundry," he said.
"She said it was so disgusting she wouldn't wash it."
He added: "My great aunt's daughter was the art teacher at the local school and Spencer used to come and teach the kids and came to the house a few times," he said.
For Goddard, 2012 also marks a milestone for him. After a spell of mental illness, he is preparing to release a new album under the name of Adam Ant, called the Blueback Hussar.
The exhibition at the gallery will run from 4 February until 4 November.