Highway Agency incinerator fears for M4 services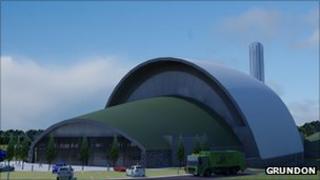 Plans for an incinerator in Berkshire should be abandoned over the strain it could put on a motorway service station, the Highways Agency has said.
Highways officials said they were concerned that site access for the plant at the Old Kiln Quarry would be via services on the M4 at Chieveley.
The agency has now written to West Berkshire Council objecting to the plans.
Developer Grundon said it would address the issue with the Highways Agency.
A Grundon spokeswoman said the company would still proceed with the application and that the Highways Agency had not raised the issue when it been "directly consulted" during the application process.
The Highways Agency said it was against government policy to "permit access to other developments through roadside facilities".
Grundon's plans were submitted to West Berkshire Council on 20 December. A public consultation will run until the end of January.