Four jailed over Maidenhead tattoo parlour shooting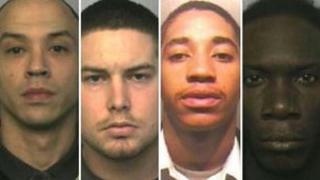 Four men from Bedfordshire have been jailed over a double shooting at a Berkshire tattoo parlour.
Two men suffered gunshot wounds in the armed robbery at Fantasy Fine Line in Maidenhead last April.
Anthony Cook, 32, was jailed for a minimum of nine years. Leon Dorman, 30, received a minimum of eight years. Both sentences were indeterminate.
Drizz James, 22, was jailed for nine years, and Joseph Gentle, 22, for six years by the Reading Crown Court judge.
All four were found guilty of conspiracy to rob the tattoo parlour following a trial.
Cooke, from Bedford, Dorman, from Houghton Regis, and James, from Luton, were found guilty of having a firearm with intent.
Cooke and Dorman were each found guilty of two counts of wounding with intent.
Following the raid, the two victims, aged 45 and 51, were treated in hospital for leg and shoulder wounds.
Supt Rob Mason, of Thames Valley Police, said: "I hope that today's verdict and the sentences handed out by the courts provide the local community of Maidenhead with some reassurance.
"This was not a random criminal act but a targeted offence carried out by people from outside the Thames Valley area, and one which fortunately did not result in a loss of life."
A fifth man, Sean Fury, 29, of Luton, arrested in connection with the incident, earlier pleaded guilty to conspiracy to supply a controlled drug and will be sentenced at a later date.