Tributes paid to Reading runner Ged Clarke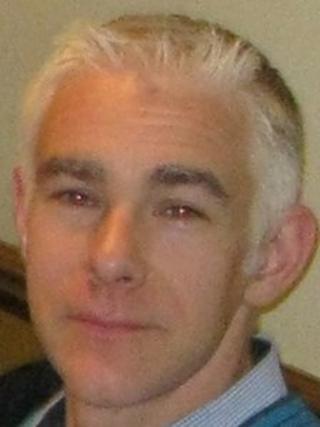 Friends and family have paid tribute to a fitness enthusiast who died as he finished the Reading Half Marathon at the weekend.
Olympic athlete Iwan Thomas asked people on Twitter to think of Ged Clarke, 39, from Reading, saying: "Way too young RIP".
The father of two was a keen runner who inspired others to live healthily.
Using his Twitter tag @12pmclub he sent out motivational messages encouraging people to exercise at lunch times.
His wife Estelle said he was a "wonderful" husband and father and that he would be "missed terribly".
She added: "He will be remembered for his happy and thoughtful character, and his great belief in doing things to the best of his ability, something his family will continue in believing for him."
Mr Clarke, who worked as a senior engineer at Foster Wheeler Energy on the outskirts of Reading, started the 13-mile (21km) course on Sunday with his friend Janine Lewis but she finished about an hour behind his time of two hours 30 minutes.
'Missed by many'
After the race, she heard a PA announcement asking her to contact the organisers and provide Mr Clarke's contact details but she was not aware of the full extent of his condition until she got home and was told he had died.
"He trained every day during work time at lunch time. That was his whole philosophy, to get away from the desk, do something, rejuvenate the brain for the afternoon slog," said Ms Lewis.
"The preceding weeks he was running up to the distance, this shouldn't have been strenuous on him at all."
She added: "He inspired a lot of people. He contributed personally to their charities, and also motivated them forward with their challenges."
Green Park Triathlon
A spokeswoman for Foster Wheeler Energy said Mr Clarke was an active member of the company's running club.
She added: "Recently, he approached Foster Wheeler for support in holding a fund-raising event at our offices here at Shinfield Park on 15 March for Sport Relief 2012 when he and his colleagues raised £620 over an extended lunch break.
"This event was subsequently followed a week later when Ged and his colleagues competed at the Green Park Triathlon 2012 in Reading and, together with all the other teams competing at the event, raised over £35,000 for Sport Relief 2012.
"I can only add that we are all devastated at the sudden loss of Ged and we extend our deepest sympathy and personal condolences to his wife, Estelle, family and friends."