Broadmoor team confident of buyer to fund £254m revamp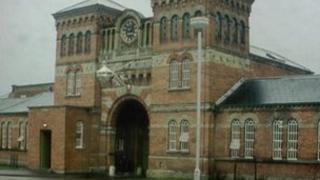 Managers at Broadmoor Hospital in Berkshire say they are confident a buyer can transform part of the high security psychiatric unit's buildings into a hotel or conference centre.
The two buildings, currently within the hospital's secure perimeter, are on the market as part of a £254m revamp.
The sale will help pay for a new hospital for its male patients.
Construction of the 10-ward unit should start in 2013. Its Victorian buildings were deemed unfit for purpose in 2003.
Vivienne Mowatt, Broadmoor Hospital redevelopment manager, conceded that accommodation for patients in the older part of the hospital was more akin to a prison cell than a room in a hospital.
"It's important that we make the changes now to be able to deliver modern health care for patients in a high secure setting.
"The Victorian buildings don't lend themselves to create the right environment for this," she said.
'Worthwhile cause'
Ms Mowatt said applications to turn the Victorian buildings into a hotel or conference centre would be welcomed but dismissed any suggestion that developers would be permitted to transformed them into flats.
The two buildings will be outside the hospital's new secure perimeter, once they have been sold.
When asked why people would chose to stay in a hotel next to high security psychiatric hospital, Ms Mowatt said: "There are many people in this community who have lived next to Broadmoor Hospital for many, many years and quite comfortably."
Funds for the project will come from the West London Mental Health Trust's capital funds, in addition to capital raised by selling off land. The remainder is expected to be provided by central government.
Ms Mowatt added: "It's a very worthwhile cause that we have been trying to do for many, many, years...it's well overdue and it's time it was redeveloped and changed."
Broadmoor opened in 1863 as England's first asylum for the criminally insane.
In 2003 the ageing Victorian buildings were declared "unfit for purpose" by the Commission For Healthcare Improvement.
Often incorrectly referred to as a prison, some of the country's most notorious killers and sex offenders have been treated within the hospital.