'Overwhelming' support for Wokingham town centre revamp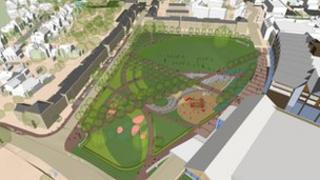 A Berkshire town's regeneration has moved a step closer to becoming a reality.
Plans to revamp Wokingham town centre will go on display next month following a public consultation held last summer.
Wokingham Borough Council said the response has been "overwhelmingly positive".
It hopes to find the right mix of shops and services which will allow Wokingham to maintain its character and identity as a market town.
The town has suffered in recent years as major retailers have moved out of the area to larger out-of-town developments.
Bernie Pich, head of regeneration at Wokingham Borough Council, said differentiating the town from nearby Reading and Bracknell is central to the plans.
"In moving forward, we need to ensure Wokingham maintains its character," he said. "Its architectural strengths lie with the fact it is a market town.
"There's a big push at the moment for protecting independent retailers, but we also need the footfall and the critical mass of people coming into the town to support that independence.
"That's where you need to strike the balance in the shops and services you're offering."
"Hot topic"
Members of the public will get their first look at the plans next month, which also include enhancing open spaces, improving car parking and the town centre's road links.
A major supermarket operator has expressed an interest in coming to the town, with their arrival expected to be announced this summer.
Retail expert Steve Musson, from Reading University, believes Wokingham is well placed to support a regeneration project.
He said: "Town centres are a hot topic at the moment with the Mary Portas Review, but Wokingham has been thinking about this for a lot longer.
"It's already a very successful base for independent retailers and is in a very rich part of the country. These plans reflect its quite unique position."
Wokingham Borough Council hopes to sign a development agreement later this month with construction firm Wilson Bowden and submit a planning application in September.
If approved, building work could start in 2014 and be completed in late 2016.