Royal dolls' house book published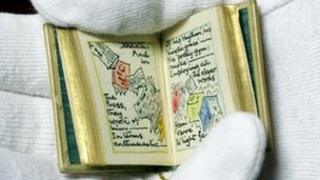 A miniature book created for Queen Mary's dolls' house in 1922 is to be published in full scale.
The volume is part of the Royal Collection kept at Windsor Castle and features a story by cartoonist Fougasse about a fairy called Joe Smith.
More than 170 authors, including Hardy and Kipling, are featured in tiny books which form the dolls' house library.
The Fougasse book measures 4cm (1.6in) by 3.5cm (1.4in). The scaled-up version will be published in hardback in May.
Royal Collection publisher Jacky Colliss Harvey said: "This book is a miniature work of genius, full of sly wit and with Fougasse's unmistakable and charming illustrations."
The book was created for the dolls' house by Fougasse, real name Cyril Kenneth Bird, one of the foremost cartoonists of the day.
He went on to edit the satirical magazine Punch and is best known for his Careless Talk Costs Lives posters, drawn for the government during World War II.
In Fougasse's book, which is handwritten in verse with illustrations, Joe Smith tries to convince disbelievers in London that he is a fairy, but decides to return home to fairyland after a series of adventures.
The book is one of 200 in the miniature library created for Queen Mary, consort of King George V.
The dolls' house, designed by architect Sir Edwin Lutyens, is a miniature aristocratic Edwardian home with electricity, running water and lifts.