Developer 'disappointed' over Chieveley incinerator plans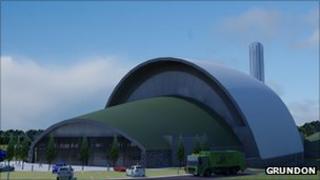 A developer which wanted to build an incinerator at a beauty spot said it was "disappointed" a council rejected its plans without a public debate.
Grundon wanted to build the waste management facility in Chieveley.
West Berkshire Council said the decision to refuse the proposal was made in line with planning rules.
A Grundon spokeswoman said she was surprised such a "significant proposal" had been decided under a council officer's delegated powers.
"Given the nature of the scheme and the amount of public opinion, we were disappointed it didn't go forward for a public debate," she said.
"We still firmly believe in the merits of our scheme. We are currently reviewing the decision and the officer's report and will decide on our most appropriate course of action in due course."
Grundon claims the plant would have generated electricity for 50,000 homes and it would provide a safe, efficient and environmentally sustainable way of dealing with waste.
But critics of the project said it would spoil the landscape, which is designated as an Area of Outstanding Natural Beauty.
A spokesman for West Berkshire Council said: "The decision was made in line with the rules set out in the council's constitution.
"Those rules allow councillors to 'call-in' an application to be decided by committee if they wish, but in this case they chose not to do so."